How to come?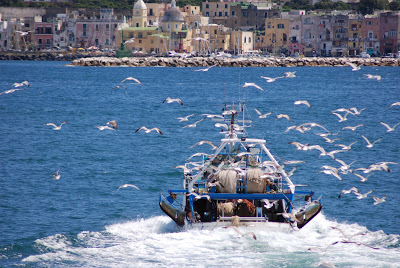 Procida is less than 4 km. from the mainland and easily accessible by ferry or hydrofoil from Naples. A medieval fortified town and picturesque fisher village, with a history dating back to ancient Greek colonization and a present population of about 10,000, Procida boasts a historical center with ancient monuments, churches, and buildings, as well as towers and fortified walls bearing witness to its long history. Its natural beauty, breathtaking views, beaches, and typical Mediterranean architecture, besides making it a popular tourist resort, have inspired many literary works and movies. Naples--one of the most beautiful and vibrant cities in Italy--can be easily reached in little over an hour by fast train from Rome, as well as by direct international flight to its airport, Capodichino.
Here are instructions and directions on how to reach Procida.
How to reach Procida from Naples airport and Naples train station?
Hydrofoils to Procida are operated from Molo Beverello, the main passenger service wharf in the Naples harbor, whose entrance is just opposite Piazza Municipio. Ferries are operated from Calata Porta di Massa wharf, which can be accessed through two main entrances in via Marina, Varco Pisacane or Varco Immacolatella Vecchia; both can be reached by shuttle bus service from Piazzale Angioino (close to Molo Beverello) or walking either from the train station (about 25 minutes) or from Molo Beverello (10 minutes).
There are two ways of reaching Molo Beverello from Napoli Capodichino airport: by bus and by taxi. Taxis have flat rates from Capodichino to Molo Beverello (€ 19): in order to have the flat rate applied to your ride you should explicitly request it when boarding the cab. Tipping is customary. Buses are called Alibus, and they run from the Airport to Piazza Municipio; the ride takes about 30-35 minutes, depending on traffic conditions, and it costs € 3. Tickets can be bought on board. BothAlibus and taxis can be found right outside the arrivals area.
If you have traveled to Naples by train, you can either walk (about 35-40 minutes from the train station to Maschio Angioino and Molo Beverello) or take a taxi to Molo Beverello from the train station (a flat rate of €10.30 applies, which you should request on boarding the taxi; however, on a Sunday and in light traffic conditions, going by the meter will probably be less expensive. Please check that the taxi driver turn on the meter when starting the ride). Bus 151 departs every 30 minutes or so from in front of the train station and has a stop in via Acton, opposite the entrance to Molo Beverello. You need to buy your ticket before getting on the bus; tickets can be bought from newsstands and ticket offices within the station.
From Piazza Municipio, you need only face the sea to see the entrance to Molo Beverello; on your right you will find the ticket offices of individual companies connecting Naples to the Naples Bay islands. The main companies operating ferries and hydrofoils to Procida are Caremar and SNAV. The schedule can be found at the links below: ferries (traghetto) reach Procida in about 1 hour, hydrofoils (aliscafo) in about 30 minutes. If you opt for the hydrofoil, you can buy your ticket and then access the passenger area from Molo Beverello. If you take the ferry, walk to Porta di Massa and enter the harbor area from the main entrance; then walk to your left (facing the sea) until you reach a large building on the right which gives access to ticket counters and the passenger area. Please note that ferries call at Procida harbor and then proceed to Ischia, the larger island opposite Procida: please make sure you get off the boat at the right island!
http://www.procida.net/oraritraghetti2012.pdf
http://www.caremar.it/AreaPasseggeri.aspx
How to reach Naples from Rome airport?
Trains to Naples leave from Termini Station in central Rome. There are different kinds of train, AV (Alta Velocità) "Frecciarossa" being faster (1 hour and 10 minutes) and more comfortable, as well as more expensive (up to € 45 for a second class one-way ticket, depending on rates and time of day), "Intercity" a little slower (a little over 2 hours) and not as comfortable but less pricey (ranging between € 19 and 22). Discounted tickets can be found by buying well in advance on the internet at http://www.trenitalia.com/. AV tickets can be bought for € 29 (instead of 45), but discounted tickets cannot be changed or refunded if you miss the train you had booked. Tickets can also be bought at the railway ticket office and at travel agents in the station hall (no extra fees), and from self-service machines (these, however, sometimes do not accept foreign credit or debit cards, so it would be better for you to have at least a small amount of euro). Train tickets cannot be bought on the train; Intercity tickets need to be validated in the yellow stamping machines by the train track before boarding (that does not apply to AV tickets).
How to reach Termini Station from Rome airport?
-Airport-city center: assuming that most of you will fly to Fiumicino "Leonardo da Vinci" airport, there are three ways of reaching the city center: train, bus, and taxi.
-Train: As you get out of the passenger area of Terminal 3, turn to your right and you'll see train signs guiding you towards the train station (it is across the street from the arrivals area and can be reached in a few minutes through a combination of stairs/elevator and walkway). Once you reach the Fiumicino airport train station, you will find two kinds of trains: "Leonardo Express," a fast train running direct to Termini Station, and ordinary Metro trains running to Fara Sabina or to Orte (small cities to the north of Rome). The trip on the Leonardo Express to Termini Station takes about 30 to 40 minutes; trains depart every half hour and cost €14 (kids under the age of 12 travel free with a paying adult). Please notice that the train from Fiumicino stops within Termini station, but a half kilometer from the main body of the station, where the trains to Naples leave. Station trolleys are very difficult to find: wheeled and rolling luggage really helps. At Fiumicino airport's train station, you can buy Leonardo Express train tickets at the railway ticket office and at travel agents in the station hall (no extra fees), and from self-service machines (these, however, sometimes do not accept foreign credit or debit cards, so it would be better for you to have at least a small amount of euro). Train tickets cannot be bought on the train and they need to be validated in the yellow stamping machines by the train track before boarding.
-Bus: if on leaving the passenger area you turn right and walk in the direction of the train station, you'll see also directions to buses to the city center. The company is called SitBus Shuttle and passenger pickup is just outside of Terminal 3, across the street from the airport. Tickets can be bought on board and cost around € 8. The ride is about 45 minutes (but it can be longer if the traffic is heavy) and the final stop is in via Marsala (next to Termini station).
-Taxi: when leaving the passenger area, get out of the airport through the exit in front of you: taxis line up just outside. Legitimate taxis are white with a taxi sign on their roof as well as identifying numbers and the city symbol on their doors and rear; please be sure to get only on this kind of taxi. If anybody asks you if you need a taxi ride just outside the passenger area, please walk on! they have no business asking you. Authorized taxi drivers can only be found in the taxi line outside the terminal, and they won't come out of their cars until they help you place your baggage in the trunk. Some companies have a flat rate of € 40 or 45 from Fiumicino airport to any place within the Aurelian walls (practically the city center); other drivers will go by the meter, but the result is not all that different, since depending on the traffic, the ride to Termini Station will be between €40 and 50. Tipping is customary.
If you arrive at Ciampino airport, your only options are buses (SitBus and Terravision are the main companies; they operate buses from Ciampino to via Marsala, near Termini Station, at prices ranging from €4 to 6, one way) and taxis (the same suggestions apply; fares are cheaper, with a flat rate of € 30 or 35—approximately the cost of a ride by the meter, as well).